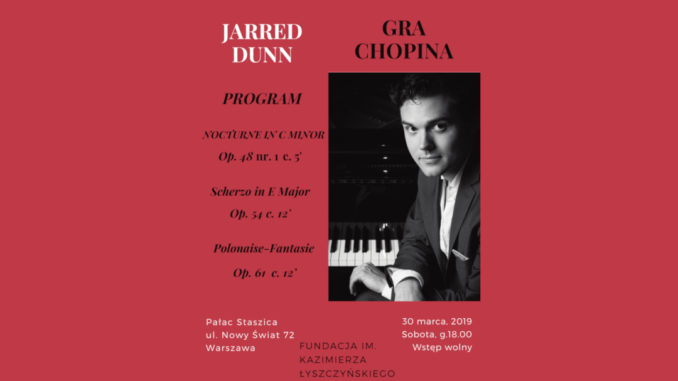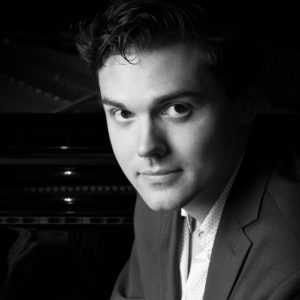 Jarred Dunn Plays Chopin
It is not easy for a foreigner to play Chopin in Warsaw – the city of the International Fryderyk Chopin Piano Competition – especially in the hall where CHOPIN Music Salon in Staszic Palace1 concert series takes place on a regular basis. In Poland, even someone who is not a music lover learns about Chopin either in the cradle or, in the least, it is impossible for them to get on an aeroplane of Polish airlines, a long-distance train or sit on a bench in Krakowskie Przedmieście2 without hearing Chopin's music… After all, Chopin is considered to be a representation, an emanation and the quintessence of Polishness. Is it then possible for a foreigner to play Chopin if they were raised without Polish willows, kujawiaks and obereks?
A Canadian, Jarred Dunn, is one of the people who can. His concert, on the 30th of March 2019 in the Mirror Hall (PL: Sala lustrzana) was a big cultural event that brought not only aesthetic sensations, but also showed the work of a genius Polish composer in a broader – considering both time and space – perspective. Of course, the playing of the brilliant Canadian performer did not lack the "Polishness" that he had a chance to learn thoroughly from the best Polish teachers during his Master's Studies in Katowice or later in Bydgoszcz. The "Polishness" was audible in every piece: from Nocturne in C minor op. 48 with its drama that was built by the pianist from the very first chords and the tragic ending, through Scherzo in E major op. 54, played with a great sensitivity, brilliant sound and technical mastery, to the brilliant Polonaise Fantaisie op. 61, a piece that is very complex harmonically and difficult in many aspects.
In every piece Jarred Dunn showed his virtuosity, amazing sense of style, elegance and noble – but not excessive – sensitivity, passion – without being pathetic, beautiful piano and powerful forte, melodious – but not sugary – cantilena, broad phrasing and very rich, nuanced range of sounds.
But this is not all. Suddenly, when listening to Dunn's playing, I heard not only the romantic side of Chopin who took off the classical corset; I also heard Debussy's Clair de Lune and even preludes of Scriabin, who – according to the legend – used Chopin's scores as a pillow.
There was something more in the Canadian's playing that was very familiar to me, as a freethinker: the kind of reflection, afterthought and doubt about humans, their passions and dramas. In the centre of Chopin's music, there stands a man with his emotions, happiness, but also his tragic fate. I was listening attentively to the humanist music, for which God is an "unnecessary hypothesis" and in which the mysticism, sometimes ascribed to Chopin, appears to be a very rich fantasy of the composer and the performer.
It was an amazing recital, performed by a prominent Chopin interpreter. It helped the audience realise once again that this entirely Polish music – just like any great art – belongs to the world cultural heritage.
Nina Sankari
(translated by Patryk Czyż)
1 original: PAN CHOPIN Muzyczny Salon w Pałacu Staszica
2 main street of central Warsaw