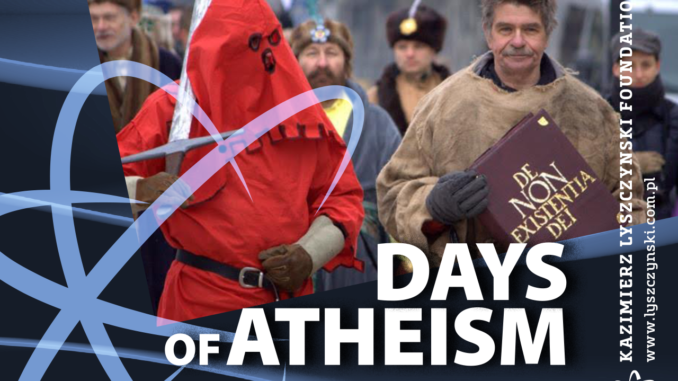 31 mars au 2 avril 2017
The "Days of Atheism" are organized each spring by our Polish friends of the Kazimierz Lyszczynski Foundation to commemorate the death of that great atheist Kazimierz Lyszczynski and to affirm freedom of conscience. The event is a celebration of atheism which, each year, attracts increasing numbers of atheists from Poland and from around the world. It includes the Atheist March and the historical reenactment of the execution of Lyszczynski, as well as lectures, panel discussions, exhibitions and film screenings.
Fauzia Ilyas & Michael Nugent, Atheists of The Year
The ATHEIST OF THE YEAR 2017 Prize, in the international category, was awarded ex aequo to FAUZIA ILYAS (Pakistan) and MICHAEL NUGENT (Ireland).
See also:
The declaration on blasphemy and apostasy
Nina Sankari (Poland), Jane Donnelly (Ireland), Michael Nugent (Ireland) with his prize,
Fauzia Ilyas (Pakistan) with his prize, Maryam Namazie (Great Britain) and David Rand (Canada)
Nina Sankari, principal organizer of the Days of Atheism
At the banquet, 2017-04-01
The meeting hall
Panel 2: Blasphemy, apostasy, secularism, atheism
Panel 3: The Right to Die with Dignity
Reenactment of the execution of Kazimierz Lyszczynski
Source: