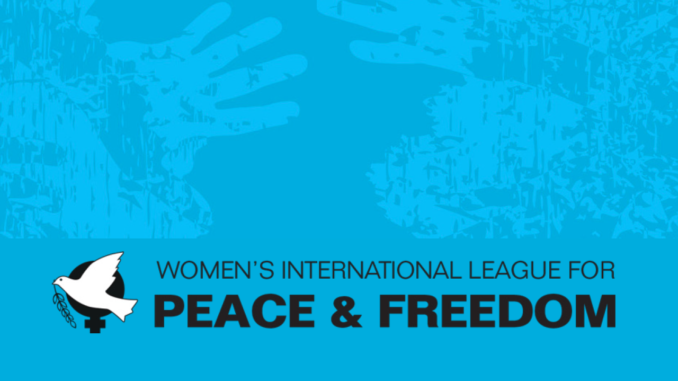 We greet our Polish sisters and wish that their strike announced for Oct. 3 will be a great success and a step towards equality, tolerance and respect!
WILPF as the oldest Women's Peace Organisation is defending women's rights since more than 100 years. Accredited at the United Nations  as Civil Society Organisation, WILPF constantly denounces  human rights/women's rights violations all over the world. We, the sections present in Berlin today, feel united with you in your struggle for justice and rights. Your protest is directed against a fundamental attack on women's rights by a conservative ruling "elite" in close cooperation with the catholic church. We see Poland on the way to cut not only European and international standards but also achievements in women's history.
WILPF and many friends with whom we work during the international peace conference here in Berlin this weekend, critisize the way of dealing with abortion rights  in Poland, neglecting  more than 200.000 signatures (many young women!) collected for a more liberal right in accordance with standards in other European countries. To exclude this proposal from parliamentary discussion and decision making is  unacceptable – especially if a total ban of abortion is taken as the basis for discussion now! This is a clear Human rights violation.
WILPF emphasises new general that women are vulnerable in many dimensions in modern society. Women suffer most from poverty and exclusion, equal pay does still not exist, care work is totally under-estimated. In times of "crisis" this inequality even grows.
WILPF underlines that gender is the category of joined responsability of men and women for a sustainable future in peace. The marginalisation of women in the economic field and the lack of democratic participation is a risk for social cohesion and a root cause of growing violence and extremism. To ignore this is or to refuse it, is also in contradiction to international legal commitments (CEDAW, Bejing platform of action, UNSCR 1325 – just to name a few).
Dear sisters you can count on our solidarity and awareness. We will follow and support your activities and talk to our governments and institutions to keep Poland on a democratic track, to respect rights, values and commitments as a partner in Europe.
WILPF sections from Norway, Finland, Italy, Germany, Denmark, met in Berlin, Sept 30 and will support you with this declaration.
As well as the international secretariat of Wilpf (www.wilpf.org) in the name of SG Madeleine Rees and international vice president Margrethe Tingstad, Norway, Heidi Meinzolt, European coordinator of Wilpf + Heike Aghte, activist Berlin, Ute Scheub, author and women's security council Germany, Helga Reymann, stop TTIP movement, dr Dieter Lehmann, Ippnw, Piero Antonio Rumignani, activist Italy.
KLF