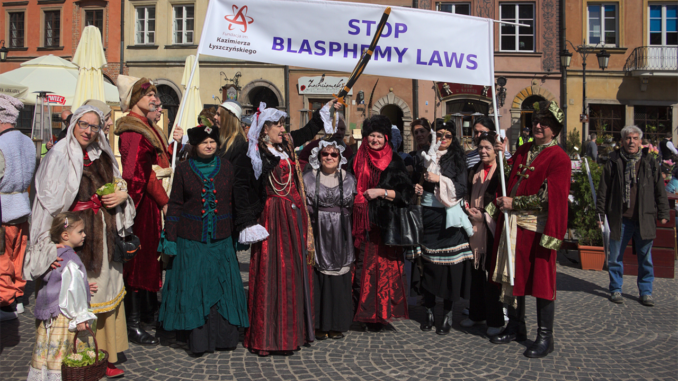 Athei
st Da
ys 2016
Events organized by Kazimierz Lyszczynski Foundation
Friday, April 1, 2, Batory Foundation, hall J. Turowicz, 10a, Sapieżyńska St.
18.00 – Departure from the Ibis Hotel for dinner in the canteen of the Foundation (soup, main dish, dessert – approx. 5 euro)
19.00 – Opening of the events organized by Kazimierz Łyszczynski Foundation

19.10

Screening of the

Belgian documentary "can we not elieve?" 

(CAL/CLAV)

19.40

 – 

R

ound table "Science vs. Religion, Faith vs. Reason, Beliefs vs. Knowledge"
21.00 – 

Maryam Namazie

(One Law for All, Ex-Muslim GB) "Religions and the people's aspirations for freedom"

21.15 – The Iranian documentary on women protest against the compulsory veiling
21.30 – 

Hugo Estrella

(Secular Policy Institute) on the Cardinal Bergoglio (Pope Francis)

21.45 – Discussion
22.15 – End of the event
For interested: A Get-together in the old town
Saturday, April 2, 2016
12.

00

– 

March of atheists and historical reconstruction

of the execution of Kazimierz Łyszczyński. Itinerary: Nicolas Copernic Monument (72, Nowy Świat St.)-Rynek Starego Miasta (Old Town Square)

13.30

 –  Lunch (25 Street Podwale, approx. 7-8 euro)
15.00 –  Round Table I – "Famous blasphemers and apostates in defense of freedom". Batory Foundation, room J. Turowicz, 10a, Sapieżyńska St.

Djemila Benhabib

(Algeria/Canada)

Sanal Edamaruku

(Indian Rationalist Association/Finland)

Waleed Al-Husseini

(Palestine/France)

Grażyna Juszczyk

(Poland)

Chair:

Nina Sankari

(Kazimierz Lyszczynski Foundation, Poland)

17.00 – Round table II: "For freedom from religion"

Micheline Claes,

ADMD, France

Gauthier Ngumbu,

Free Thought, Congo/France

Hugo Estrella,

Secular Policy Institute, Italy

Agnieszka Abemonti-Świrniak,

Author of books, Secularism Award, Warsaw 2015

Chair:

Ewa Dąbrowska-Szulc

, Federation for the family and Family Planning

18.30 – Break
20.00 – Gala dinner, "The Atheist of the Year Award Ceremony", Palace of Science and Culture, Plac Defilad 1
Sunday, April 3, 2016, Feminoteka, 34/50, Marszałkowska St.
Feminist Session: Religions vs. status and situation of women (co-organized by FAE)
10.00 –

 

Carine Delahaie (Femmes Solidaires and RIFL)

10.30

 – 

Round Table I: Religions and freedom of women

Jamile Nedai

(Coordination of European Women's Lobby/France)

Solange Cidreira

(FAE France)

Judit Morva

(FAE Hungary)

Nicoletta Pirotta

(Wei/FAE Italy)

Malgorzata Marenin

(Stop Stereotypes, Poland)

Chair

:

Josette Rome Chastanet

(FAE France)

12.30 – 12.45 Break
12.45 – Round Table II: "Secularism for women's rights and gender equality"

Wanda Nowicka (UN Women Commission, Poland)
Djemila Benhabib (RIFL; Canada)

14.15 – Meeting with Gudrun Schyman (FI, Sweden)
15.15 – End of debate