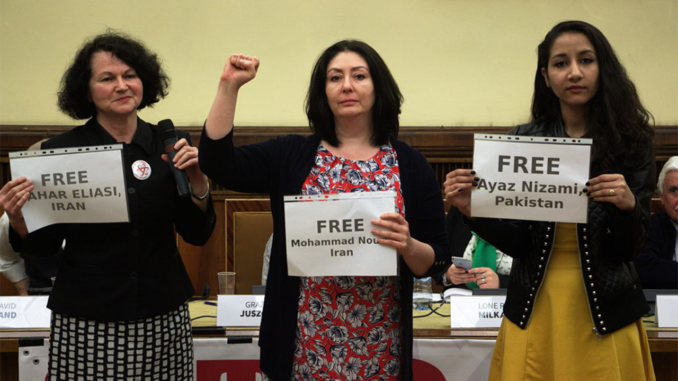 Declaration on apostasy and the blasphemy adopted by participants in the event "Days of Atheism 2017 – For the Right To Choose"
The declaration on blasphemy and apostasy
We are alarmed at the increasing persecution of freethinkers accused of blasphemy and apostasy. In the past month alone:
Ex-Muslim atheist H Farook, a father of two, was hacked to death in India.
In Iran, the death sentence of 21 year old Sina Dehghan has been confirmed by the supreme court on charges of "insulting the prophet". Deghan's co-defendants, Sahar Eliasi and Mohammad Nouri, have also been convicted of posting "anti-Islamic" content on social media. Nouri was issued the death sentence whilst Eliasi was initially issued a seven-year prison sentence; her sentence was reduced to three years upon appeal.
In Pakistan, Ayaz Nizami and Rana Noman were arrested by the government on 22 March on accusations of blasphemy. After the arrest, #HangAyazNizami trended on Twitter. This followed the Pakistani government's request that Facebook and Twitter help identify those suspected of blasphemy so it can prosecute them or pursue their extradition.
Needless to say, it is not an "insult" to Islam or any religion, if one becomes a freethinker or an atheist – either in public or private. It is exercising a fundamental right to freedom of conscience.
Moreover, criticism of religion, including Islam, prophet and god, is not "Islamophobia" but exercising a fundamental right to freedom of expression.
Those who "punish", imprison, incite violence against or forcibly prevent freedom of conscience and expression are the ones who commit a crime – not those exercising their basic human right.
We call for an end to blasphemy and apostasy laws – whether de facto or de jure. Those more concerned with "offence" than murder help legitimise the persecution of atheists and freethinkers across the globe.  It is high time victims of blasphemy and apostasy rules are defended not blamed for their persecution.
In the 21 century, human beings and human rights must trump religion.
Warsaw, April 2, 2017